BrainSurge
BrainSurge is a game show for children hosted by Jeff Sutphen. The show was adapted from a Japanese show called Brain Survivor. The show has three different levels plus a knockout round. The first level is known as Brain Tease, it features five to six different puzzles that are worth different amount of points. After this round, some contestants are eliminated, but the top four contestants continue on.
The next level is known as Brain Fart, this level features the contestants being read a story and then being asked questions from the story. If a contestant answers the question wrong the chair the are sitting in makes a farting noise and then then are eliminated.
After this level there are only two remaining contestants. In the knockout round the two contestants have 10 seconds to learn a grid of images and after each round the two players take turns matching pairs until someone misses and is eliminated. The last player goes into the Brain Trip which features a final puzzle that allows the player to earn the grand prize.
4:30 PM et/pt on Nickelodeon

3 Seasons,

55

Episodes

September 28, 2009

/

10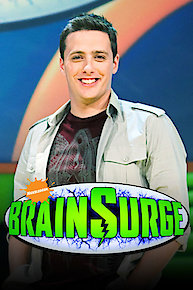 BrainSurge Full Episode Guide
Families compete in games that test memory and concentration skills.

Families compete in games that test memory and concentration skills.
Episode

31

-

Episode 231 video

Santeeon, Danielle & Jessica go brain to brain with Tony, Gino & Michael, on BrainSurge!

Megan, Niall, Rebecca, Shaniah, Logan and Anish do their best to beat the brain drain!

Britney, Katrina & Maisie take on Reese, Sam & Benjamin in a girls vs. boys challenge.

After this week's battle of the genders, the audience takes home a prize.

Jojo, Athena, Lucy, Mike, and Michael compete.

Jakobe, Marley, Ethan, Elena, Inga & Kevin figure out the code to open Jeff's garage door.